Get ready Gentlemen because your shirt game is about to undergo a drastic upgrade in sheer style and sex appeal! I want to discuss with you a shirt that exudes confidence and allure that can carrying you from a drunken night with the boys, to breakfast the next morning with the lady in your life (even if that lady is your mom). What shirt is this you ask? Well I'll tell you fellas, its the band-collar shirt, the shirt that every man needs in his arsenal.
The Collar of Tomorrow
---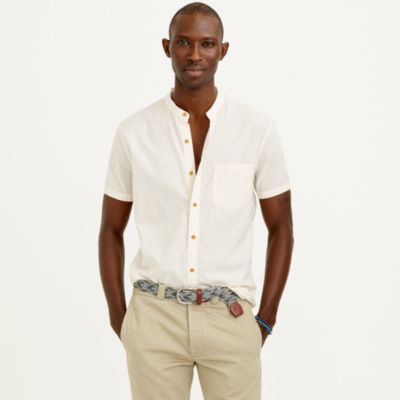 I don't know about you but I am a huge fan of wardrobe diversity, in fact I thrive on it. The worst thing you can do outside of being sloppy with your style is to be boring and the simple way to avoid this is to build an arsenal of diverse pieces to mix and match into looks that are different but still very much your own in terms of style.
It's the smallest of details that can have the greatest impact on an outfit. Just striping this collar down to a mere band positions this shirt on a plane of its own, a middle ground between a t-shirt and a dress shirt as I like to think. That singular feature alone packs a style punch that will jolt you into the ranks of menswear legend or make you look diverse at the least.
A band-collar shirt presents a casual air of sprezzatura that will translate onto your look and give you an upper had in sex appeal that I'm sure you will greatly appreciate when the benefits arrive.
Throw this shirt on with a pair of chinos and a knitted belt for a summer ready look on your trip to the beach. Need to dress things up? Grab a light-weight linen jacket with and add a pair of brown suede shoes and your ready for a night out with the fellas or that special lady.
This is the type of shirt you want to wear on those days when you want to feel relaxed but look as though you've just been dressed for a photo shoot with GQ and what man  would pass that up?
Liven up Your Work Look
---
 Opposites often do attract and pairing a band collar shirt with a pieces that are more formal will create a dashing look that will place you in a new field of best dressed in the office and have street-wear photographers snapping photos of you to be placed on their blogs.
The dress code in many careers paths have become more relaxed than ever before but for those gentlemen who still need to don a suit, this shirt can be of great use.
A band-collar shirt does not have to be your weekend go to alone, try pairing it with a well cut, three piece suit and make the walk to the office, your runway. I wouldn't say where this look to a sales meeting but it will make your more causal suit days that much more appealing and you'll be that much more prepared for happy hour.
Every lady likes a man in a suit but every man wants to be that man in the suit who just brought something new to a classic look such as oriental inspired shirt. With the daring look you would display with your new collar, your boss may even be compelled to compliment your impeccable taste which may stick you in his memory when a higher position than your opens up.
After all, men respect other men with style because its shows maturity, stability and a inherent ambition; this is the type of guy you want on your team and this is the man you will want to promote.
For a business casual look, try and shawl collar cardigan and a pair of slacks for an understated elegance. Or you can piece your band-collar shirt with a blazer and chinos for a look that will lead your from your desk to drinks with friends after hours.
---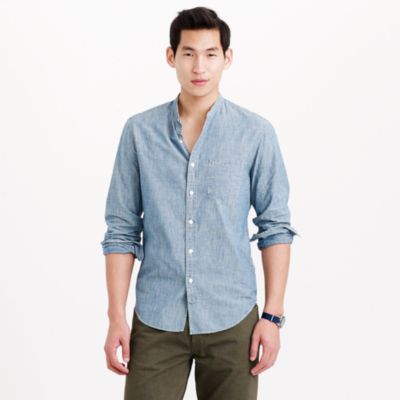 So you see, the band-collar shirt is what you need to enhance your style selection to a level of greater heights. This simply collar tweak is a game changer that you will make a huge change to your style and alter the function of your clothes. Give your classic button up shirts a break and start putting this new style staple to work!
So whats your verdict? Are you ready to upgrade your shirt game to take on a new level sartorial magnificence or is an upgrade not for you?
Leave me a comment and let me know what you think, and if you have questions relating to this post or anything in fashion, I'm the man to answer them! If you like what you read be sure to hit the share buttons at the top of this post and share the love!